2023
Opened OM Digital Solutions Production Technology Center, a base for lens innovation.
Located in Hachioji City, Tokyo, near our R&D center, this facilitity delivers one-stop verification of processes from the planning and development stage of optical lenses to the polishing, molding, coating, bonding, and exterior coatings. Traditionally this is a difficult process for mass production and is the key to accelerating OM SYSTEM's lens development in the future.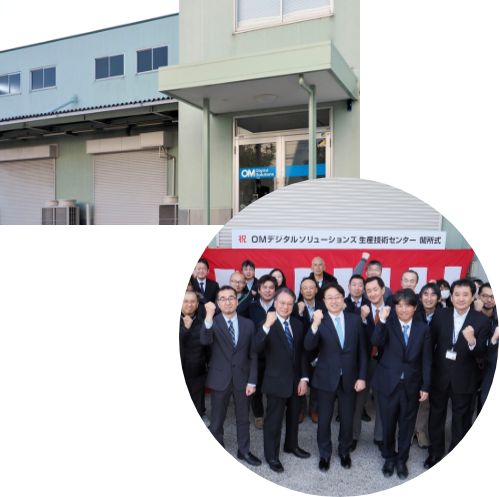 2022
The first camera bearing the OM SYSTEM brand logo, the OM SYSTEM OM-5.
The first single-lens reflex camera bearing the OM SYSTEM brand logo.
A compact, lightweight, dustproof and weather-proof body with an arrary of photographic functions to stimulate photographers' creativity.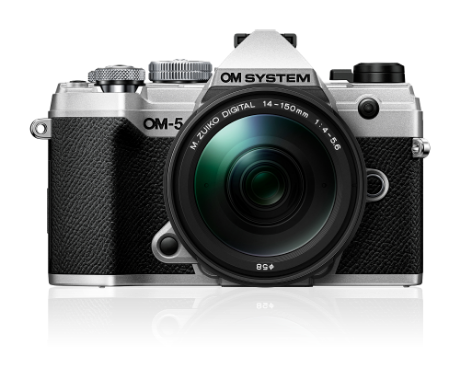 Flagship model OM SYSTEM OM-1
The next-generation Micro Four Thirds camera is highly mobile and takes full advantage of the benefits of the Micro Four Thirds system. It offers high image quality, top performance and a variety of innovative image processing options using Computational Photography, accessible to all levels of users in a camera that can be carried anywhere, anytime.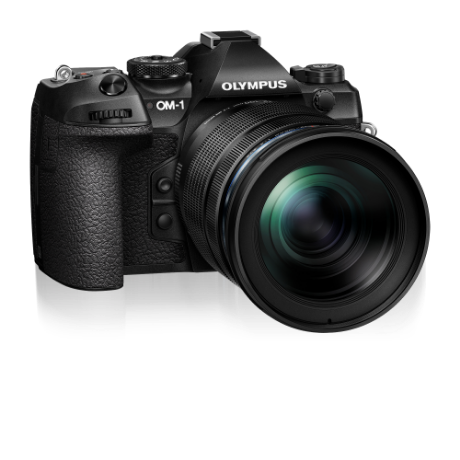 2021
Announced "OM SYSTEM" brand for our imaging and audio products.
Our new brand, "OM SYSTEM," encompasses the Company's digital (chiefly) mirrorless cameras, interchangeable lenses, audio products such as IC recorders, binoculars, software and services. With the "OM" philosophy, the company will continue to provide a one-of-a-kind customer experience.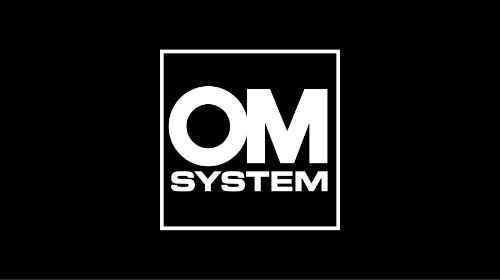 M.ZUIKO DIGITAL ED 150-400mm F4.5 TC1.25x IS PRO
This high-specification PRO lens is a large-aperture super-telephoto zoom that is compact, lightweight, and highly maneuverable. Dustproof, weather-proof, and abe to operate at low temperatures with ease of operation, it delivers high performance in a wide range of genres, including birds, wildlife, and sport.
Deelivering resolution performance required by professionals throughout the entire zoom range, it is also compatible with 5-axis synchronized image stabilization with a correction effect of up to 8 stops. The built-in 1.25x teleconverter enables ultra-telephoto hand-held shooting at a maximum of 1000mm equivalent.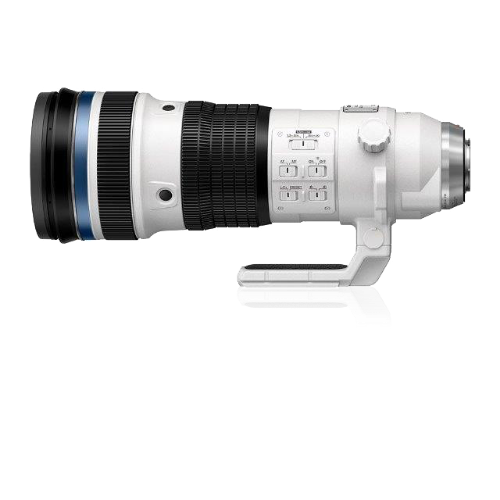 OM Digital Solutions Corporation is born
Headquartered in Hachioji City, Tokyo, the company started with approximately 2,000 employees.
The company name "OM" stands for the company's imaging brand, centering on its mainstay mirrorless cameras, and "Digital Solutions" stands for the company's attitude and commitment to the future by expanding the imaging-related business it has cultivated while taking on the challenges of the digital domain beyond the boundaries of imaging. "Digital Solutions" represents our commitment to the future.

2019
Mirrorless Camera
OLYMPUS OM-D E-M1X
The integrated vertical grip provides flexible and secure operability. This professional model also features the world's highest image stabilization performance of approximately 7.5 steps.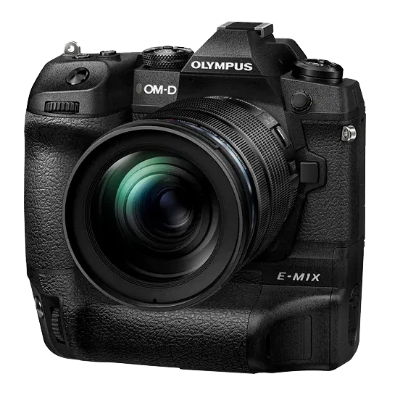 2016
Mirrorless Camera
OLYMPUS PEN-F
Inheriting the name of the world's first half-frame film camera, the Pen F, it combines classical yet modern beauty with cutting-edge digital technology.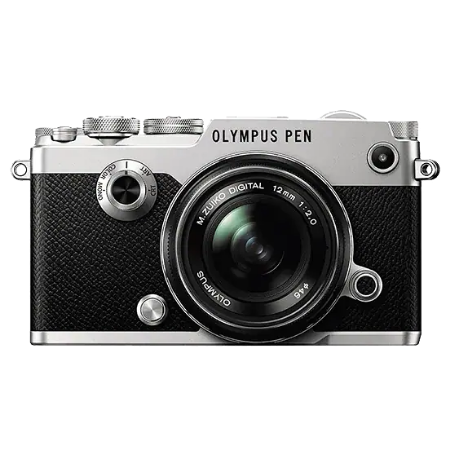 2013
Mirrorless Camera
OM-D E-M1
Olympus' highest image quality so far, achieved with a 16 megapixel Live MOS sensorand a built in 5-axis image stabilization mechanism that handles all types of camera shake plus on-chip Phase Detection AF and the new TruePic VII image processing engine. Amazingly compact and lightweight, splash & dust proof performance.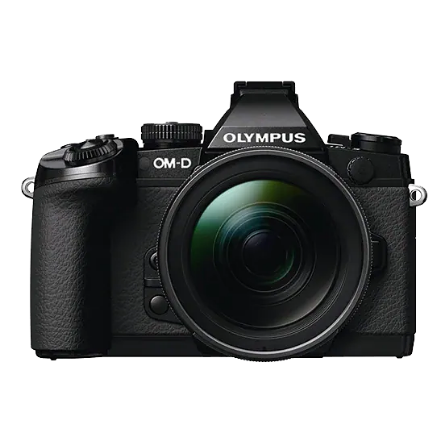 2012
OLYMPUS Tough TG-1
The flagship model of the Tough series is equipped with an F2.0 high speed lens in a tough body with 12m waterproof, 2m shockproof, -10℃ freezeproof, and 100kgf crushproof.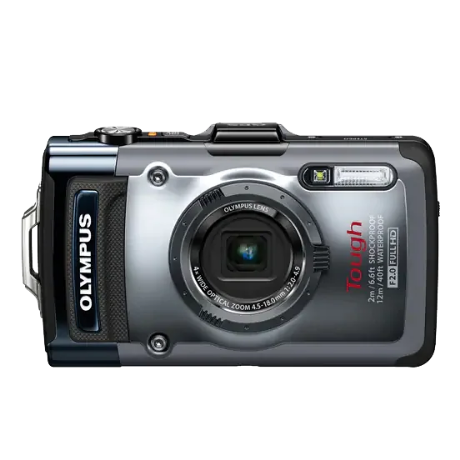 Mirrorless Camera
OM-D E-M5
This camera, bearing the name of "OM" that established an era as a film camera system SLR, was a reproduction of the "OM" series in digital format, inheriting the compact, lightweight, linear, single-lens style and sense of concentration that characterized the OM series. The camera's body was made of a magnesium alloy, which provided high durability.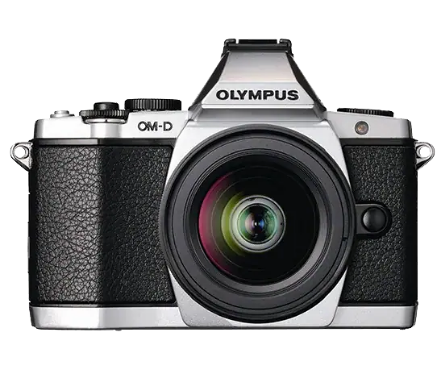 2009
First Olympus mirrorless camera OLYMPUS PEN E-P1
The first Olympus mirrorless digital camera with interchangeable lens that conforms to the Micro Four Thirds system standard. It features a design with universal appeal and bears the name "OLYMPUS PEN" in synoymous with encouraging more people to experience the joy of photography and the pleasure of owning a camera.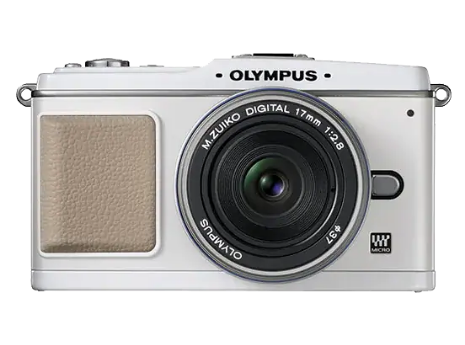 2008
DS-5000 compliant with DSS high sound quality standards
Compatible with the DSS high-quality sound standard to improve voice recognition rate. This product is also security-conscious, supporting voice file encryption and fingerprint recognition functions.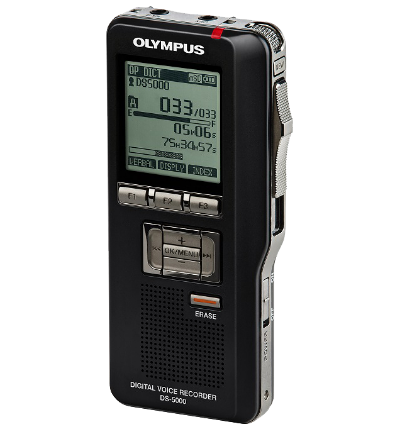 LS-10 Linear PCM Recorder with High Sound Quality
This linear PCM recorder is compatible with the linear PCM format, an uncompressed digital recording format, and can record with sound quality that exceeds that of CDs. Two high-quality microphones positioned at a 90-degree angle on either side of the recorder enable recording of musical instrument performances and bird calls with ultra realistic sound quality. The two microphones are positioned at a 90-degree angle on the left and right sides of the recorder.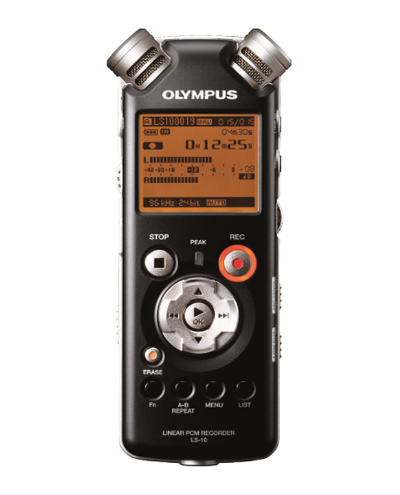 2006
Shockproof and Waterproof Compact Digital Camera
μ720SW
The world's first compact digital camera that passed a drop impact test from 1.5m and can ne used 3m depth underwater. The first model in the Tough series.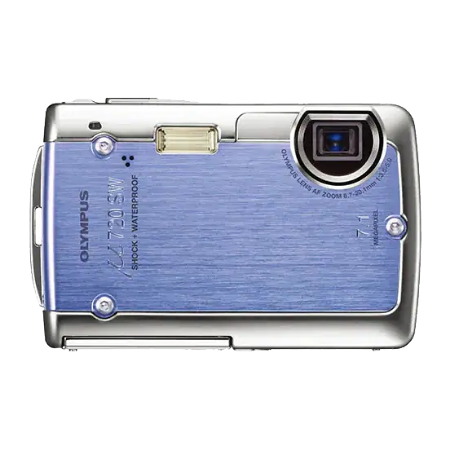 2003
First interchangeable lens digital SLR camera
E-1
The first digital SLR camera with interchangeable lenses under the "Four Thirds System" standard, a new standard for SLR camera systems.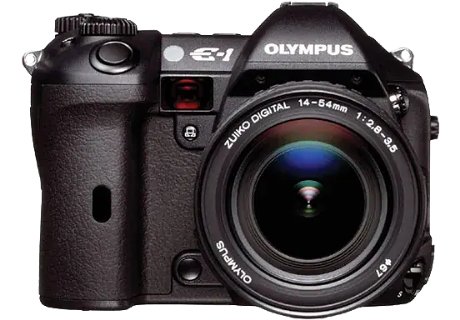 1999
Stylish IC recorder V-90
The ultra-compact and lightweight 45g (including batteries) design also combines ease of use with style.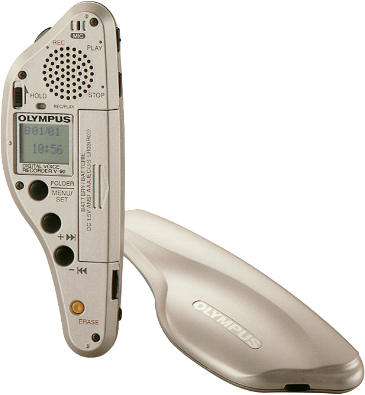 1996
Olympus' first consumer digital camera
CAMEDIA C-800L/C-400L
With outstanding image quality and the ease-of-use of a compact camera, this camera pioneered the world of high-image-quality compact digital cameras.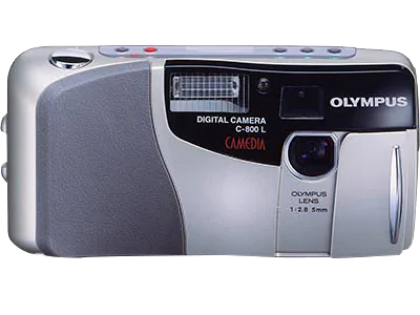 1991
Compact film camera
μ[mju:]
The μ series became the best-selling series of Olympus cameras due to its compact, lightweight, caseless, and attractive design.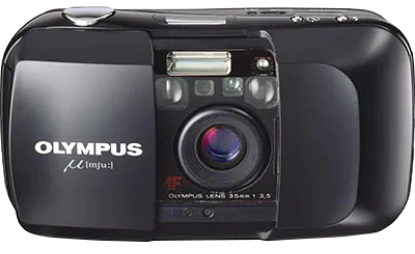 1990
All-in-one SLR L-1
The first model of the new concept AF SLR L series with fixed zoom lens. Adopted the characteristic L-shaped body design that is easy to hold and resistant to camera shake. This full-specification all-in-one camera established a new genre of zoom SLRs by bringing high image quality and high performance zoom lenses closer to the user.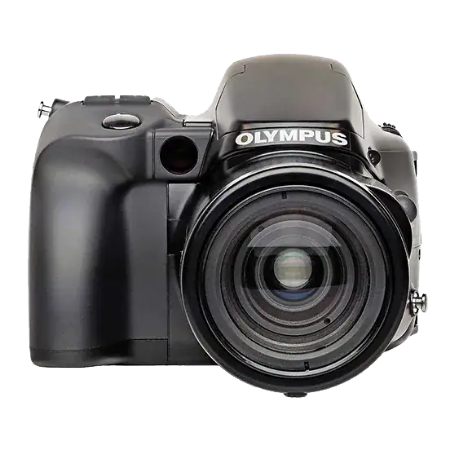 1986
OLYMPUS AF-1
The world's first fully automatic compact camera waterproofed for everyday use.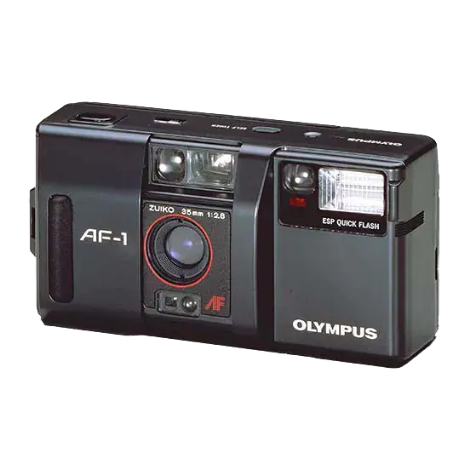 1983
OLYMPUS AFL ("Picasso")
The Olympus AFL was one of the first cameras powered by a lithium battery. The high capacity of the built-in battery reduced the strobe flash recharge time to about 1.5 seconds. The nickname "Picasso" derived from the Japanese word "pika," meaning "flash" from the way in which the camera's flash operated.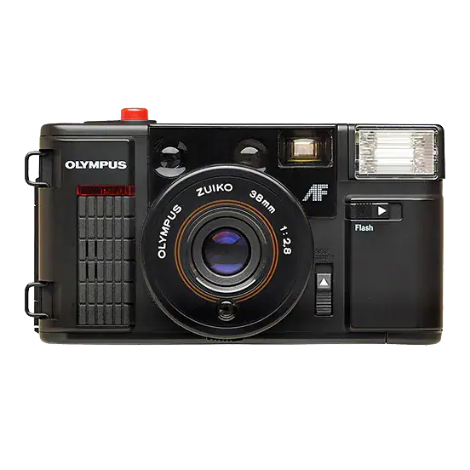 Pearlcorder L200
The world's lightest 125g recorder with a variety of functions such as head start, voice activated recording (VCVA), and fast listen playback.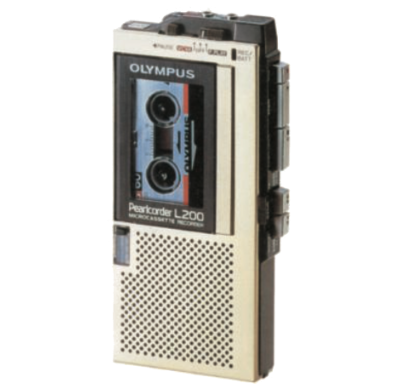 1979
XA
Fitted with a barrier-type lens cover that eliminated the need for a case. Extremely portable and ready to shoot at a moment's notice, this superb compact camera also incorporated a range of sophisticated features, including a built-in rangefinder and aperture-preferred AE.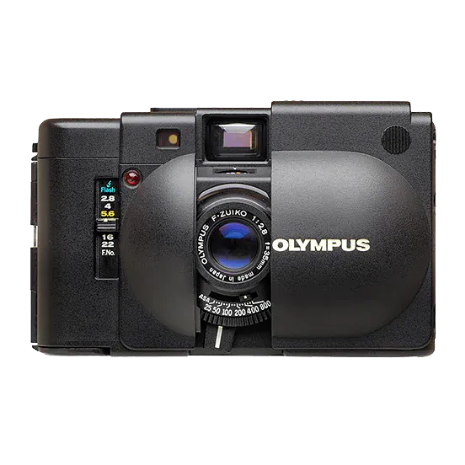 1977
Transcriber T500
Playback machine for dictation to document dictation recordings. This product has added features required for dictation, such as a repetition function that allows free playback and rewinding, an automatic rewind mechanism, a tape speed control that can be freely adjusted within a certain range, a foot control switch, and a special headset earphone.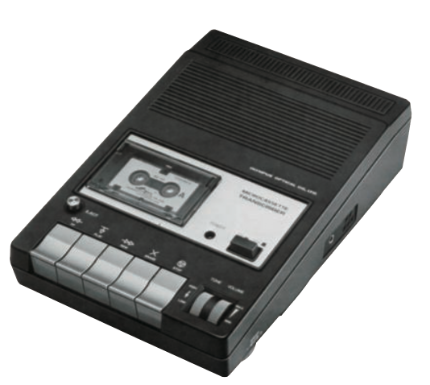 1972
The world's smallest and lightest 35mm SLR camera
OM-1
Olympus employed a wide range of innovative ideas to reduce body size and the noise and shock caused by shutter operation. Shutter durability was also improved, resulting in a system capable of withstanding 100,000 operations.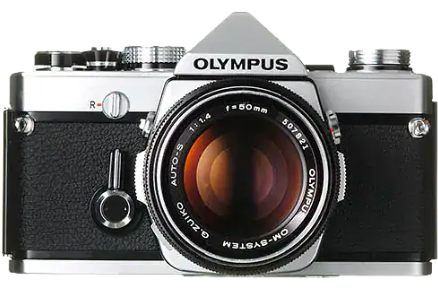 1969
ZUIKO Pearl Corder
World's first microcassette tape recorder. It uses a microcassette tape, which is smaller than a conventional compact cassette, and is equipped with a high-quality microphone. The world's smallest cassette tape recorder with simple and easy-to-use controls for recording, playback, and rewinding.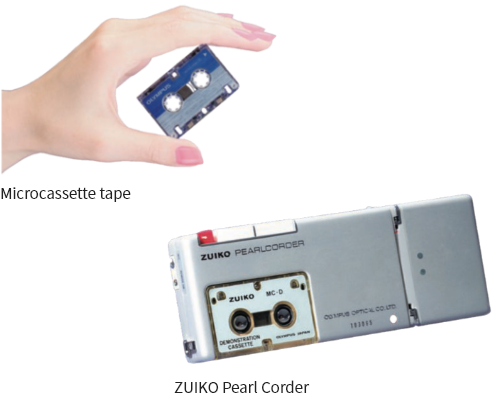 1963
The world's first and only half-size system SLR Olympus Pen F
An innovative camera with original features such as a polo-prism viewfinder, the first rotary shutter that used titanium for the shutter curtain, and a wide variety of interchangeable lenses.
1959
Half-size camera Olympus Pen
By splitting 35mm film in half vertically, this innovative half-size camera doubles the number of shots taken and, because of the smaller screen size, also reduces the size of the body.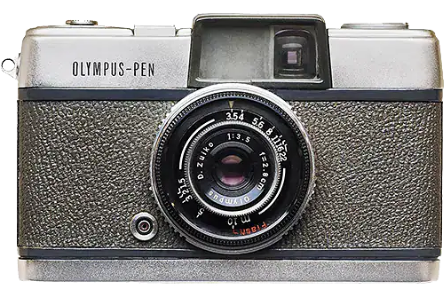 1936
The first Olympus camera, the Semi-Olympus I
In 1936, the first prototype of a photographic lens was completed in a room of the Shibuya factory of the Mizuho Engineering Research Institute, and by July of the following year, Olympus had completed prototypes of various photographic lenses, including the 75mm/F3.5 focal length lens, the 75mm/F3.5 lens, and the 105mm/F4.5 lens. The foundation for Olympus' entry into the camera business, which had been a long-held dream of the company, was laid at this time. These lenses were named "ZUIKO" after the two letters of "Mizuho Engineering Laboratory" in response to an in-house competition. Eiichi Sakurai (former advisor to Olympus), who was in charge of engineering at the time, recalled the birth of the Zuiko lenses in later years as follows.
It was in a darkroom of about 10 square meters. It was pitch-dark, and only the table was bright. An enlarged image of a test chart was projected on the table. Two technicians were standing by the table. One was silently adjusting the focus of the projector. The other quietly watches the image. " A single word: "Hmm.
They remove the lens and projector and replace them with another lens. He focuses the lens and examines the image from the center to the periphery and then to the four corners. Then he rotates part of the lens barrel. The image becomes blurry. The focus is adjusted again on the projector. The image becomes sharp. I examine it again." "This is good! good, this is good," says one of them, smiling as he holds the handle of the projector. Their faces smile in relief in the faint light of the table's reflection.